Campuses: Brisbane | Cairns
Study type: TBA (One day Theory & Practical)
Assessment Methods: Blended
Outcome: On successful completion of this course, you will receive a nationally recognised State of Attainment
Tuition fee: $180.00
Age limit: We welcome every passionate adult. There's no age limit for Learning learning your passion until your curiosity ends.
Entry requirement: Are you a coffee lover? If your answer is YES, what are you waiting for?
COVID-19 safe plan: In our classroom, we provide you a comfort and safe (social distancing in place) to learn more about coffee. One person, one machine and one grinder each time at any time.
If you are serious about getting a job as a barista then you must do a Nationally Recognised barista course. Our barista course includes Theory (online at your own pace and 3.5 hours (practical) of coffee art.
Results is a nationally recognised Statement of Attainment bearing the units of competency:
SITHFAB025 Prepare and serve espresso coffee and
SITXFSA005 Use hygienic practices for food safety
This course is split over separate days.
PLEASE NOTE: Competency must be obtained in your theory before progressing to do the practical.
When enrolling you need to first enrol into the Theory.
You also have the selection of dates to best suit you to complete the practical competently.
Course Description
A good coffee in the morning will make your day until the next one!
On successful completion of this short course, you will receive a nationally recognises Statement of Attainment.
Essential for anyone who wishes to step in the café and hospitality industry, this course will provide you with an opportunity to learn the basics of coffee making and is a fun and practical way to explore your knowledge of the café industry and gain a basic overview of coffee preparation.
This short course, held at our Brisbane and Cairns Campus, is an introduction to espresso coffee making and will provide you with the basic skills and knowledge you need to make great espresso.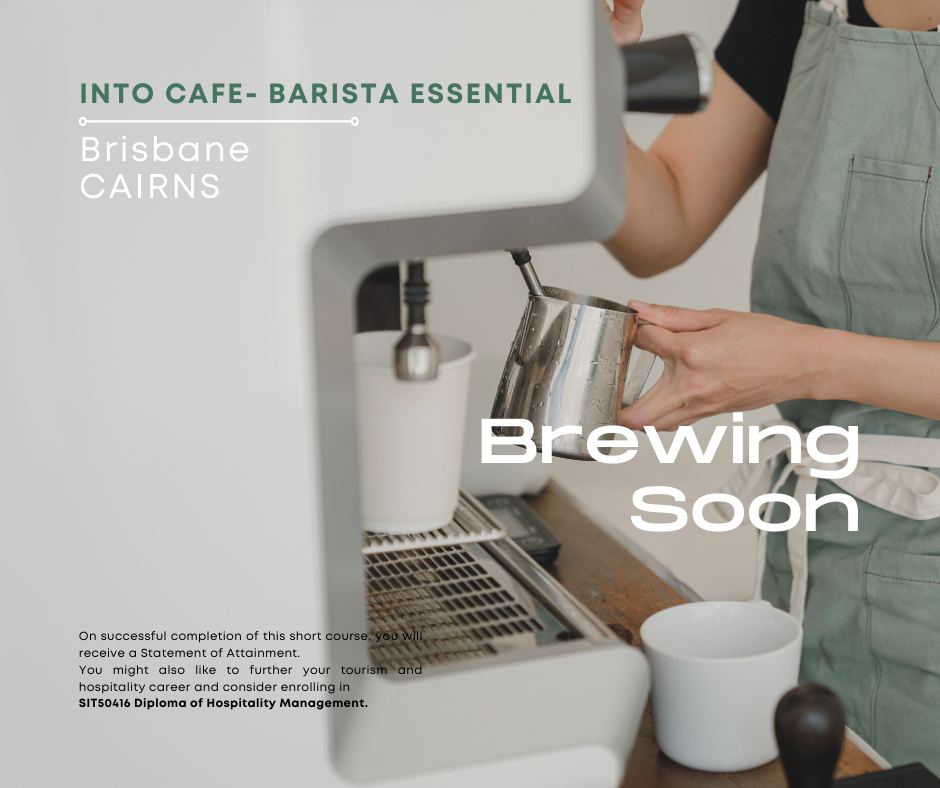 In this Barista Fundamentals training you will learn how to extract espresso, milk preparation and practice your technique in making espresso drinks, and repeatable skills and testing, as well as how to safely operate and clean espresso machines and grinders. This short course is ideal for budding baristas wanting to enter the booming Café industry!
On successful completion of this short course, you will receive a Statement of Attainment.
You might also like to further your tourism and hospitality career and consider enrolling in:
Units
SITXFSA005: Use hygienic practices for food safety
Being a barista mean you have to do multitasking job, including checking your extraction and clean up your area at the same time. You will learn not only making a good coffee but also handling all your bar area.
The unit applies to all organisations with permanent or temporary kitchen premises or smaller food preparation or bar areas. In some States and Territories businesses are required to designate a food safety supervisor who is required to be certified as competent in this unit through a registered training organisation. Food safety legislative and knowledge requirements may differ across borders.
SITHFAB025: Prepare and serve espresso coffee
Grinding and Extract espresso + Streaming and Foaming milk + Adjustment and maintenance of grinder and espresso machine + Practice your technique in making espresso drinks Pouring technique- It is not easy as you see on any video. You have to know the momentum as you adjust and increase the flow of milk, just to make sure you have enough foam in your cup.